Point of Purchase (POP) & Point of Sale (POS)
RPI has developed a streamlined process for executing Retailer POP/POS that is quickly becoming the industry standard for efficiency and effectiveness.
Visual Impact: Our knowledge of Production Art techniques, printable substrates, and "what works at retail" gives us the expertise to find the right balance between great ideas and great execution.
Production Capabilities: RPI has a wide array of digital and offset print capabilities, as well as large and small format printing, die cutting and shipping solutions.
Focus on Execution: RPI understands that a great POS program is not complete until it is implemented in the store and seen by consumers. That is why we have dedicated kit-packing, shipping and customer service departments who work tirelessly to insure POS programs are shipped accurately, on time, and easy to execute at retail.
Our dedicated Project Managers help create branded point of sale materials.
Production House Model
PrePress Process
Production Art
Graphic Adaptations
Artwork Management
Custom Designs and Innovations
RPI Project Managers assist with:
Fostering innovation and creativity with traffic stopping design & graphics
Helping to Strengthen your Brand equity
Implementing efficient workflows
Facilitating speed to market of creative executions
Conceptual, Renderings, Repurposing, & Structural Design
Production Art – Implement and re-purpose existing Brand assets
Structural Design – Develop new ways to visually communicate Brand
Imaging, retouching, and copy changes on the fly
Substrate Innovation and testing
Full range of Production services
Kit-Packing/Fulfillment
Shipping
2022 Print Excellence GOLD Award
Point Of Purchase & Point Of Sale Execution: Process & Equipment
Data Management. RPI uses real time file transfer and proofing processes. Digital assets are accessed and processed computer-to-plate (CTP) electronically. All creative or text changes are sent via .pdf for proofing and approvals.
Compressed production timeline. RPI in house services allow for complete program management from "Data to Dock".
Creative Services (Structural & Creative design, plus pre-press)
Print Production
Bindery
Kit-Packing
Shipping
2022 Print Excellence GOLD Award
Examples of RPI Point of Purchase/Point of Sales Displays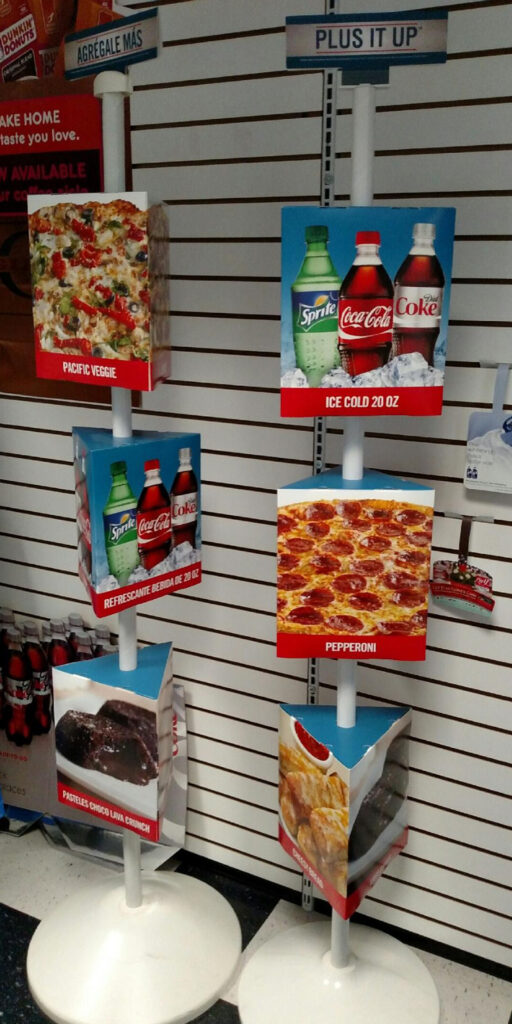 3 Sided Spinner with Base
Point of purchase marketing is where the consumer, the money, and the product all come together.